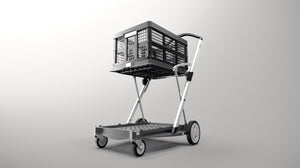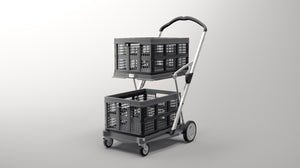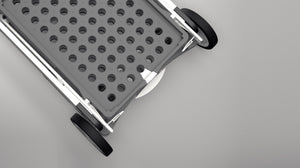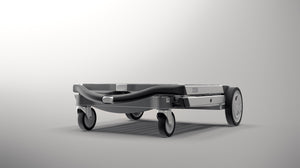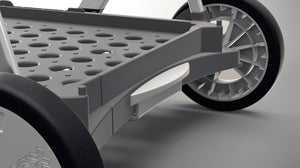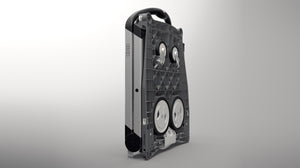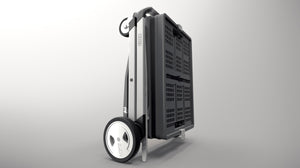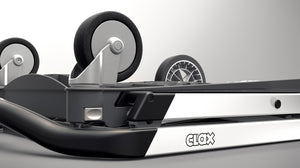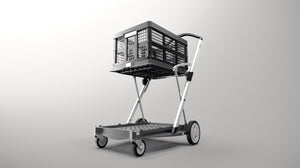 CLAX Trolley GREY
CLAX Trolley comes in 4 colour editions: green, red, grey and black.
The colour editions have different colour wheels, brake and fold-handles.
All of them available to be sent out within 1 business day from one of our warehouses. Delivery time 3 - 5 business days.
CLAX Trolley comes assembled and ready for use, you just have to attach the wheels, which is very simple. CLAX can be (un)folded with one hand in a matter of seconds.
SPECIFICATION
DIMENSIONS
With wheels attached: 22 x 28 x 7 in / 55 x 71 x 18 cm
With wheels detached: 19 x 26 x 4 in / 47 x 67 x 11 cm
Unfolded: 22 x 40 in / 55 x 102 x 91 cm
(L * W * H)
Tray dimensions - 38 x 54 cm / 15 x 21 inches - fits the CLAX box
PAYLOAD
Upper tray: 44 lbs / 20 kg
Lower tray: 88 lbs / 40 kg
Total: 132 lbs / 60 kg
WEIGHT
Trolley: 16,7 lbs / 6.9 kg
Clamshell storage box: 2,8 lbs / 1.6 kg
Total: 19,8 lbs / 8.5 kg
 If you order:
You will get your folding trolley within 3-5 working days.
Folding box included (46 liters). You can buy additional ones.
FAST & FREE DELIVERY
The clever CLAX Trolley design is the only 2 tier completely flay folding trolley that folds flat for ease of storage. The CLAX has an ergonomic handle with a simple push button that provides an effortless folding function. It also has a number of great design features including a wheel brake mechanism, one collapsible crate and a lift up tray.  Easy to manoeuvre, to take shopping, travelling, to fold away for storage in the office, garage, or the car, handy anywhere you wish.